Time gathers essence, and ingenuity makes it extraordinary! ZHONGYUAN has been committed to technology research and development and experience accumulation in Cement plant power plant powder material lifting and conveying equipment since its establishment, and has provided premium [Ash return pump] products to hundreds of customers!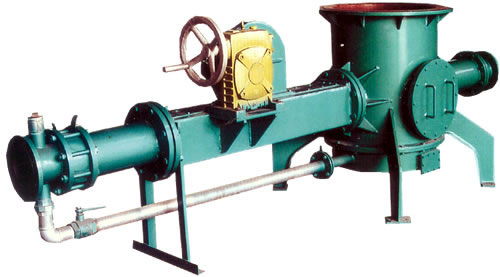 Ash pump - boiler fly ash reignition is a new type of energy saving, environmental protection transmission equipment, small investment, quick effect, simple operation, well received by users.
Boiler fly ash recombustion transfer device return ash pump is mainly used to transfer part or all of the fly ash with high carbon content to the left and right furnaces of the boiler for secondary combustion according to boiler combustion conditions. Fly ash reburning technology can reduce the carbon content of boiler fly ash and improve the boiler thermal efficiency. The new energy-saving and environmental protection equipment ash return pump can well solve the problem of high fly ash fuel, and can also be applied to CFB boilers with high fly ash fuel, insufficient ash balance in the furnace or high calorific value of coal. It has the advantages of simple system, convenient operation, small maintenance, less one-time investment and good economic benefits. It is the ideal fly ash reignition equipment for power plants and raw coal manufacturers.
Because there is a certain pressure in the furnace, the ash transport device used in some power plants has poor gas locking performance, which leads to the throughput cannot meet the requirements and often causes pipe blocking. Our company developed and produced products FHB ash pump, completely overcome this technical problem, to achieve continuous, stable, uniform delivery of powder. Working principle of ash return pump: material into the ash return pump, after fluidization, forming a good flow gas flow layer, air flow through the spray group to form high speed air flow, the formation of negative pressure area in the pump fluidization bin, the material into the conveying pipeline, and then through deceleration, decompression to transport the material to the specified terminal. The ash return pump produced by our factory is the new equipment to solve this problem, fly ash return furnace reburning, reduce energy consumption, improve production efficiency is the need of sustainable development of enterprises, we can help. The whole conveying system is composed of conveying air source Roots blower, ash return pump, air delivery pipeline and other equipment. Roots blower provides power air source, through the conveying pipe to the furnace, conveying equipment wear is small, the amount of ash can not be very adjusted, the whole conveying process is continuous, stable, uniform, so as to realize the fly ash reburning.
Specifications, models and main technical parameters
Model number
Diameter of feeding tube
(mm)
Transport capacity
(m3/h)
Air demand (free)
(m3/min)
Required wind pressure (KPa)
Motor power (kw)
FHB75
108
1—3
3—9
40—98
3—15
FHB100
133
3—7
9—20
40—98
15—45
FHB150
159
7—13
20—36
40—98
45—75
FHB200
219
13—18
36—50
40—98
75—
The century-old journey, the spirit is like a torch, and the prosperity is like this!!